We engage junior and senior high school students in an active faith that empowers them to be change makers in their world. As we learn more about following Jesus, we are called to use our lives to make earth look more like heaven. That is a place where all people are welcome no matter how much money they have, what kinds of abilities they have, or who they love. When we say all student are welcome, we really mean ALL students.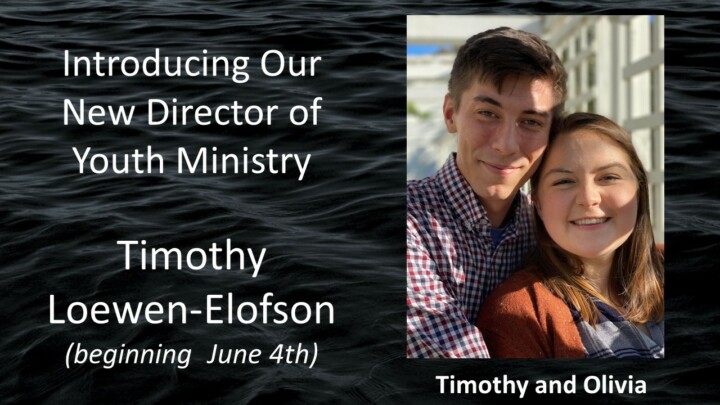 Biography: Timothy Loewen-Elofson has been working in youth ministry for eight years. Prior to joining LAUMC, he and his wife, Olivia, lived just outside of Sacramento for two years after getting married in October 2021. A native of New England, he loves the outdoors, but decided after experiencing eighteen years' worth of winters to move out west to avoid the snow. During down time, Timothy is an enjoyer of all sorts of games–from board and card games to tabletop, cooking, and finding new places to eat around town. Olivia, on the other hand, loves all things movies and music and travelling. They both are avid bookworms. Timothy earned his MDiv from Emory University where he was a Woodruff Scholar, and a Bachelor of Arts in Youth Ministry and the Humanities from Azusa Pacific University. Olivia earned her Bachelor of the Arts in Theater and the Humanities from Azusa Pacific University.
---
San Jose Giants Baseball Game
Join the LAUMC Youth Ministry Friday, July 15, 6:30pm at Excite Ball Park for a night of Baseball and Fireworks! Cost is $12. Meet you there. No transportation provided (feel free to arrange carpools from the church).
Open to rising 6th graders through graduated Seniors
Upcoming Events & Opportunities
Youth Summer Calendar of Events
---
There is a place for EVERYONE in LAUMC Youth's Ministry! No matter one's race, gender, socioeconomic status, sexual orientation or identity; no matter, even, where one finds themselves on the journey of belief, they are welcome and loved and part of our family. That welcoming space is made possible by amazing mentors and volunteers like YOU! There are so many ways to be invested in the lives of our youth and the FUN increases exponentially the more hands we have on deck!
How will you serve with us this year?
How will you prepare a place and space for all to feel welcome in our ministry?
Please take a look at the various opportunities on the back of this card and then take time to fill out online Volunteer Form or scan the QR Code above to complete the digital form on your phone. There is a job for ALL of us, no matter if our capacity is big or small. Every opportunity is a meaningful way to serve our church and we have many holes to fill as our ministry grows and changes! As far as time commitments are concerned, most every role or opportunity we offer can be altered to fit your availability.
If you don't see a way you can serve listed, create an opportunity!
It has never been easier to support the youth of LAUMC! Next time you're browsing Amazon, consider adding a few items to your cart from our wishlist! Items will be shipped directly to LAUMC.
Show your support with JUST ONE CLICK!

Please note, these are considered in-kind donations and will not be reflected on your LAUMC Giving Statement.
If you'd like to order the items instead of bring them to Youth on Sunday evening, feel free to purchase on Amazon and have your items delivered to the church (please address to Youth's Ministry) *prior to Sunday. You can donate any variation of the items above. We will make use of every item that is purchased and donated and supplement as necessary.
Ongoing Programs
Click here to see how teens at Los Altos
create programs that change the world.
---
Weekly Service Opportunities
Choirs (Wednesdays)
Come join us to make music in a whole new way this fall! We'll spend time building community, talking about the wonders and woes of life these days, and getting on board with new ways of singing and making music for our Thanksgiving Eve, Festival, and Christmas Eve Services. We meet in two groups on Wednesdays: Lightshine (6th-8th grade) at 6:00pm and Starfire (9-12th grade) at 7:00pm. Contact Carol Damonte for more information.
Tech Ministry (Mondays)
Youth interested in video production, audio recording, and all other things tech gather to work on technical projects every Monday at 4:00pm. Beyond that, our church's weekly livestream is run by these students who put the skills to work providing virtual worship for hundreds of people. Contact us by email for more information.
---